Due to popular demand, we are bringing back the company newsletter! Each week this will be your source for all the news and happenings of your favorite block at Sandhill Road. Here we will tell stories of our glories and accomplishments as well as what's in store for the coming week.
Superheroes Among Us
Congratulations to Frank Smith on being the first recipient of our FSL Hero Award! Frankie began his career with us in assembly and then moved on to run our customer support department before landing in his current position with Apps Engineering. Today, Frankie has become an invaluable asset in his knowledge of fiber lasers and his commitment to excellence to our customers..
When asked about the secret to his success Frankie said, "Never duck your personal responsibility to be the best you can be. Always bill yourself as professional and dedicated to your company and your fellow employees."
Remember, ballots for next quarter's award are waiting for your input. When you see someone doing something exceptional, please acknowledge them with a quick note and ballot submission. It's easy and let's your peers know you appreciate their efforts.
Pro-Series Gets Even Better
In case you haven't heard, our Pro-Series of machines are going to be upgraded to use RE3 software. This will be a tremendous benefit to both our customers and our awesome customer support team. By unifying our Muse and Pro-Series software we can focus on one methodology in design and execution for all our operators. Not to mention RE3 is the best laser software in the industry, so it is easy to get excited for this change. A new RE3 for Pro-Series manual will be available soon.
It's Who You Know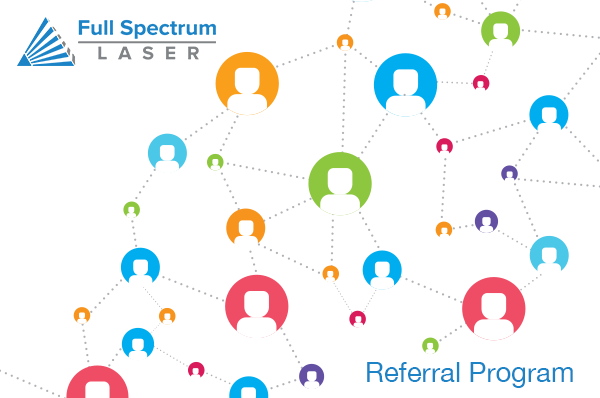 Quality people tend to know other quality people, which is why your referrals for new employees carry so much weight. To further encourage excellence in our team, FSL now has a reward program for referrals that prove their merit. Just refer someone you think is a perfect fit to the company, and if they are hired and pass their 90th day of employment, you will receive a gift certificate worth $100.
New Hires
Get to know the new faces!
From left to right, Moyu (embedded systems engineer), Joe (tech support), Destiny (front desk admin.) Justin (tech support), Nate (tech support) and Ed (tech support). Now that you know their names, introduce yourself and welcome them to the company.
In addition, marketing is happy to announce our newest team member, Megan! Megan (not pictured) will be our Social Media Champion bringing all the warm fuzzies from our fans and patrons on the Internet. Say hello, or better yet, join or subscribe to our many social media outlets.
That's all for this week. Keep up the good work!