Software is a major component as to why laser cutters are so accessible and easy to use these days. While most laser software is functional in controlling the laser, they require 3rd party design software to create or alter designs outside of the laser software. Full Spectrum Laser's RetinaEngrave v3.0 is an amazing exception to that trend and is the only laser control software that also includes a complete design suite that works just like popular 3rd party design software.
Clip Art Has Arrived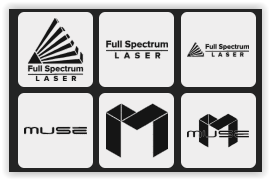 One of the features of RE3 design tools is our brand new clip art options. These, pre-rendered and pre-installed, art pieces are perfect for adding some fun art elements to your projects, but they can also be great time savers, especially if your design skills are still developing. Look for the choices and categories to expand with future updates of RE3, but for now, you have all these great options:
Shapes
Shape clip art offers pre-made outlines to frame your projects. You can create any shape you can imagine with the RE3 design interface, but if you just want something common and useful, we offer more than 20 shapes to instantly play with.
Danger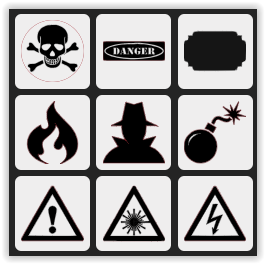 Some of these are functional and some are just for fun, and you have over 10 icons to use for whatever purpose. We suggest laser safety signs for your laser engraving workspace.
Emojis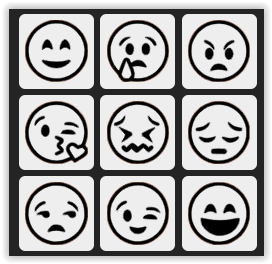 Everyone loves emojis, so we give you 30 smiley faces with 30 different expressions. Like all the clip art, these icons can be drag n' dropped from the clip art menu directly into the workspace and then be sized as needed.
Plaques & Shields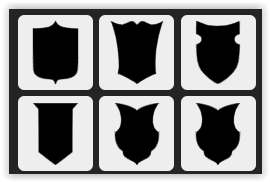 Plaques are like shapes but with a focus on mounting on a wall or mounting an award within the plaque.. Shields work under the same concept as plaques but with a more middle ages feel to them. In all, you have over 20 designs to choose from.
Sports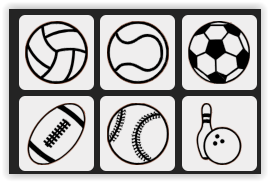 While we can't give you actual team logos (those are trademarked), we did design some icon sports symbols you can use for your sport-based projects. As with all the clip art, you can take our designs and alter them anyway you see fit.
Travel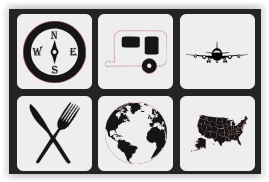 Everyone loves to travel and these clip art icons will stir your laser cutting sense of adventure. Add a world globe, an airplane or drag n drop the good ol' US of A right onto a plaque for something awesome to engrave and hang on a wall.
Material Test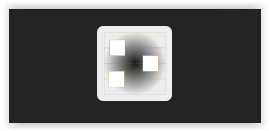 Also found within the clip art menu, we have added a simple material test design you can also utilize by dragging it into the workspace. This is the same material test we made available for download, but now it is part of software for easy access. The material test is explained fully in the video below.
If you like the clip art we have included, please let us know, along with any suggestions you think would be a great addition to the clip art library on the incredible RetinaEngrave v3.0! And for more videos related to laser cutting and laser engraving, check out our YouTube Channel.