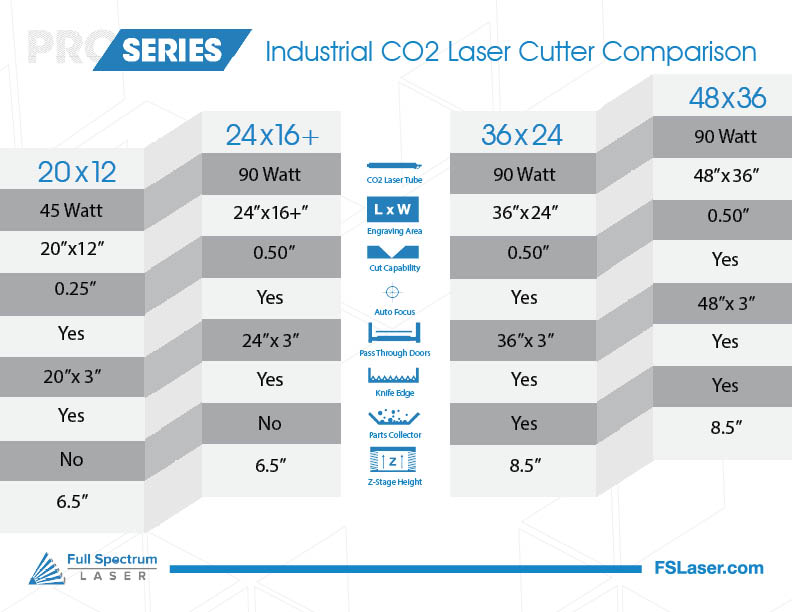 ---
Pro-Series laser cutters present a variety of features and work bed sizes to meet the needs of any commercial production goals. This handy chart offers an easy way to compare each machine in the Pro-Series. Whether you are looking to upgrade your hobby to a full-time business or want to increase your manufacturing output, this chart will present all your best options for industrial laser cutting.
Laser Tube: The chart shows the standard laser tube wattage for each machine. Most models allow for more powerful laser tube upgrades.
Engraving Area: The larger the machine the larger the engraving area. Be sure you select a machine that meets the minimum engraving area for your projects.
Cut Capacity: Indicates the thickness of "organic" material the laser can cut. Organic materials include wood, acrylic and other non-metals.
Auto Focus: All Pro-Series machines feature auto focus capabilities.
Pass Through Doors: Pro-Series features panels that open to allow longer materials to be feed to the work area.
Knife Edge: Pro-Series machines have a knife edge bottom allow small pieces to fall into a parts collector.
Parts Collector: Collects "excess" material for easy access and cleanup.
Z-Stage Height: Indicates the maximum "z-height" or maximum material thickness the machine focus to.