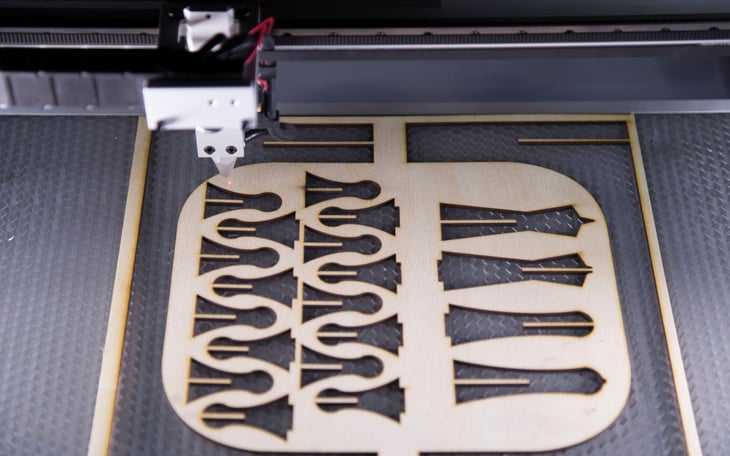 Laser cutters offer an amazing range of materials to work with, such as acrylic, glass, leather and of course, wood. These materials are widely available and work very well with laser cutters. There are, however, some amazing options now, for materials that are constructed specifically with laser cutting in mind.
While one might think, "wood is wood", a company called Rowmark has proven that is not the case. Their Hardwood Collection is made of hardwoods processed to accommodate laser cutters. This is done with a stacking method where 5-thin layers of material are stacked at right angles from the previous layer. This "cross-graining" technique gives the wood extra strength, stiffness and durability. It also eliminates visible knots and natural voids on the surface of the wood.
Going even further, the material can be purchased in units specifically sized for various laser cutter workbed dimensions, for example, a standard 20" x 12" hobby laser. Available woods include cherry, maple, red oak, walnut and mahogany.
Our own experiences with the Hardware Collection has been impressive. It is incredibly flat, which is what we want for laser cutting. More than that, however, we found the wood cuts very smoothly, reducing the required laser power but maintaining very even cuts. It is also easy to finish or paint. Perhaps best of all, the wood is all procured from sustainable resources.
If you are working with hardwoods in your laser cutting projects, be sure to check out what Rowmark is doing with their Hardwood Collection.