We have a fun new project coming out! We love making anything and everything at FSL, but one thing I personally love to make is home decor! As I scoured through Pinterest to find my next project, I found the cutest shelf that I knew I wanted to recreate.

Introducing the Pisces Moon Shelf! Obviously, this design isn't anything new, however, it's so fun to get inspiration from other makers and turn it into something of your own! If you love our design, we've created a free project file that you can download so you can make your own, too. If you do happen to whip up your own shelf, make sure you tag us and use #MadewithFSL so we can see your creation!
The original photo was just of a simple wooden shelf with the moon cycle engraved into the front piece. It was exactly what I was looking for, but I wanted to add some extra detail that would make it pop. I've been loving a twirly trippy design so I decided to vector a design into a piece of white acrylic that I cut out into a crescent moon. I've decided to make this shelf for a friend's birthday so I want it to be equally as cute as it is functional.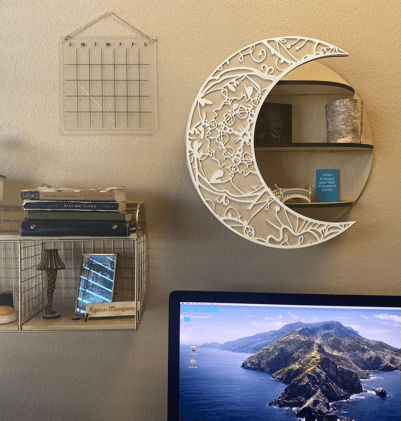 The best part about this shelf project is that it can be accomplished in less than a few hours. Of course, the rastering took the most time (about 3.5 hours) but once the engraving is complete it only takes a few minutes to completely vector all the shapes. From there it's all about the assembly. You of course have the option of using screws or bolts, but I layered an extra piece of material underneath the acrylic design so you won't be able to see the notches we used to hold it together. Notches you say? Yes, notches! These little guys make it so much easier to assemble your projects because they can slide and fit right into place. With a little bit of wood glue and you're good to go!