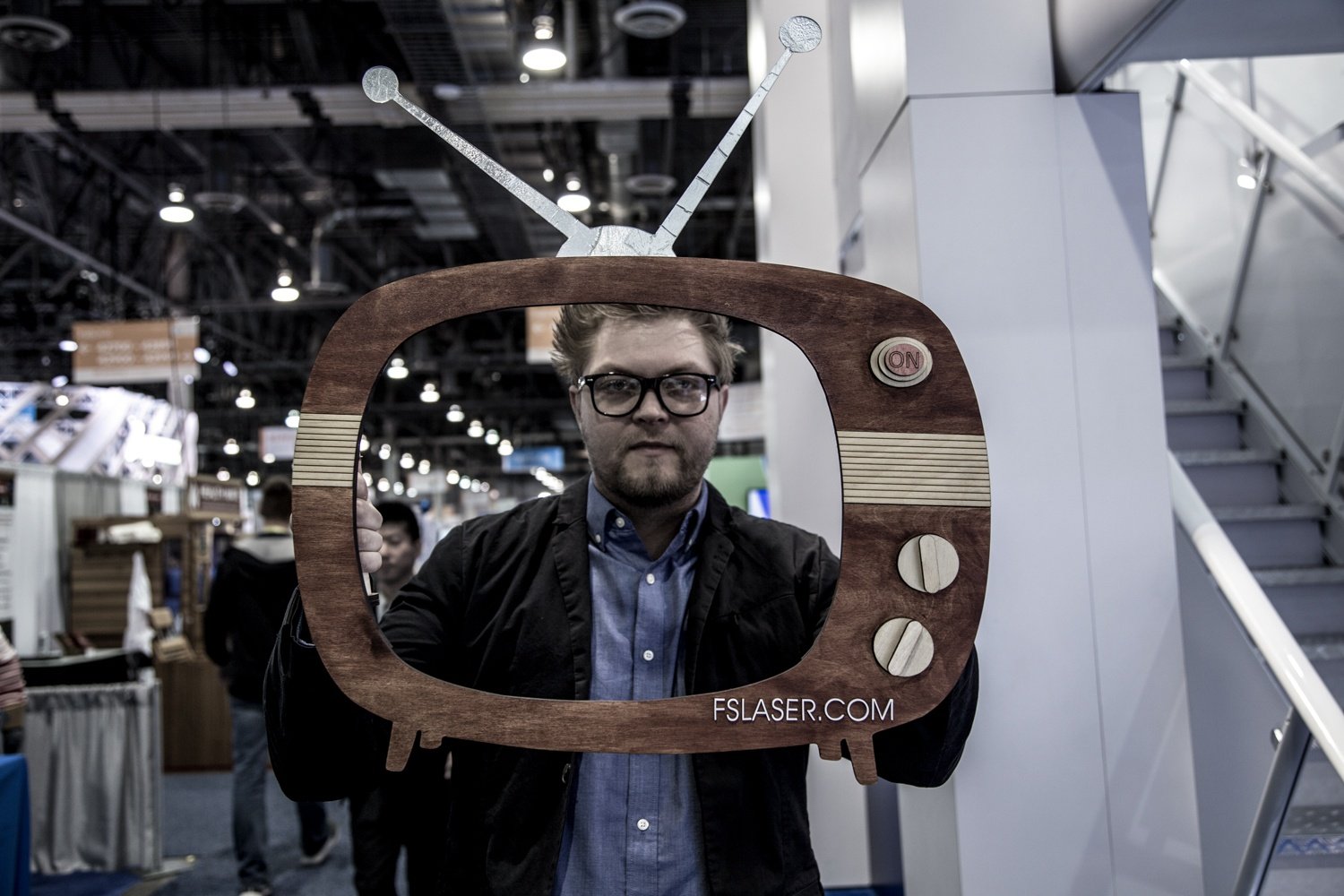 For us at Full Spectrum Laser, there is nothing more fascinating than watching a laser cutter do its thing. So of course we want to share our fascination, and our expertise, with everyone else. That is why we created our live shows focused on demonstrating, discussing and teaching everything we know about laser cutting and laser engraving. And with three different shows, there is something for everyone to enjoy. Let's look at the laser show schedule, shall we?
It all begins with our tentpole show, Laser Talk, with our hosts Nick and Walker. Each week, Laser Talk airs segments on a range of topics from safety to maintenance to amazing laser cut creations. Here you will find live question and answer sessions, interviews with guest makers such as Jimmy DiResta, and in depth discussion on laser techniques and design tips. Join the fun, enter the weekly contest and say hi to Nick and Walker - and don't be surprised if they say hi, back.
Laser Talk airs every Tuesday at 4pm (PST)/7pm (EST) on our Facebook Live page.
Where Laser Talk discusses all things laser, Inside the Laser Lab is more project based. Each Thursday, your hosts Walker and Scott focus on a single project or technique and take you through all the steps, from design to finished project. Learn Walker's approach to conception, watch how he approaches design, using software and get his insight on finishing touches and laser settings. Whether you are a laser expert or have just bought your first hobby laser, this fun, off-the-cuff show has something useful for all Makers.
Inside the Laser Lab airs every Thursday at 4pm (PST)/7pm (EST) on our Facebook Live page.
In the Cut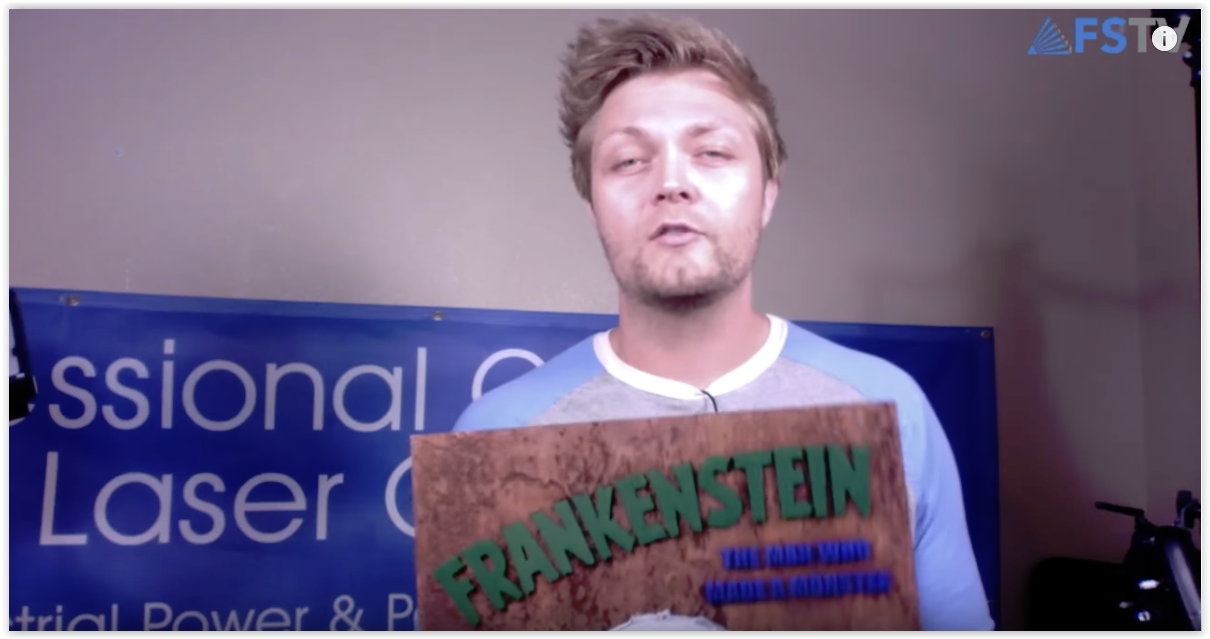 As we mentioned earlier, we love watching a laser cutter work. In the Cut features Walker going solo with two live projects every Wednesday and Friday. These projects are always accompanied by the digital files used to make the projects and are free to our audience to download and recreate. Or change and customize them at your whim. In the Cut is where you get to watch our laser cutters in action and pick up some valuable tips from Walker himself.
In the Cut airs live every Wednesday and Thursday at 4pm (PST)/7pm (EST) on our Youtube Channel.
Full Spectrum Laser YouTube Channel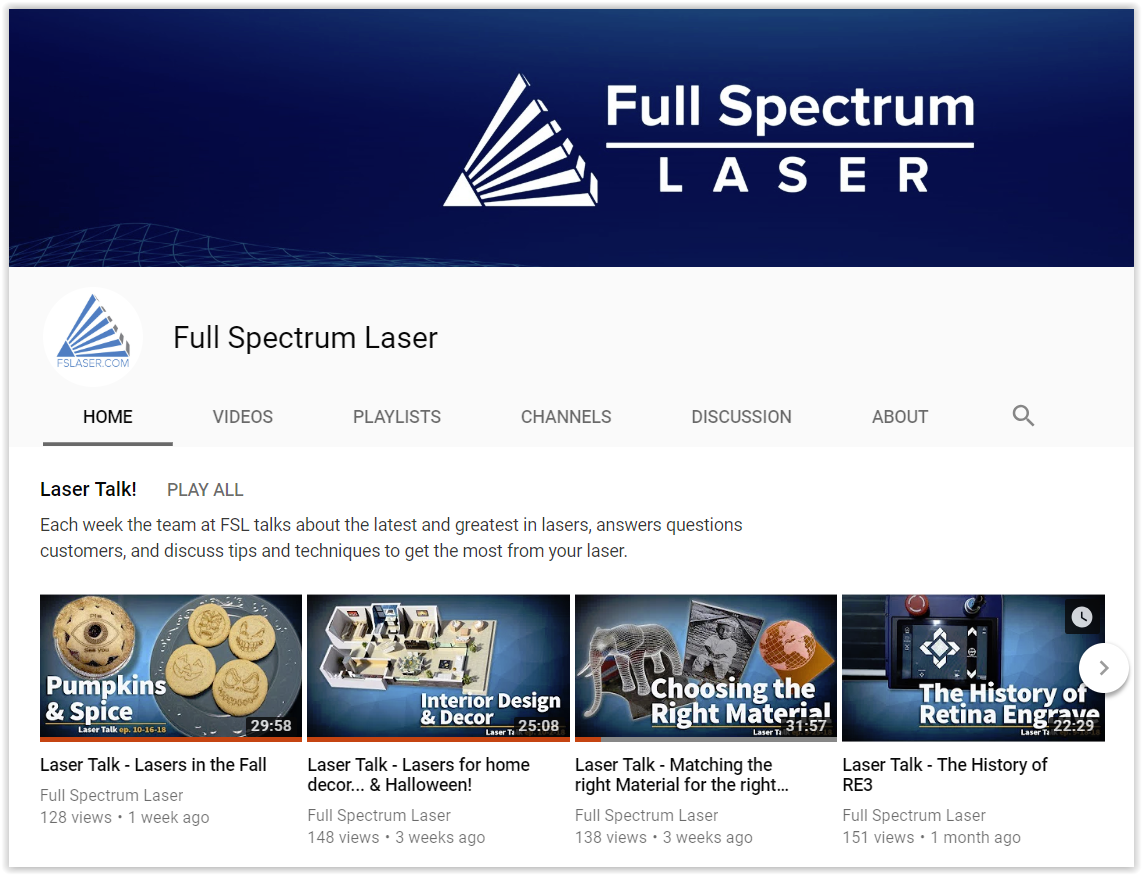 Miss an episode of one of our weekly shows or looking to binge watch lasers, lasers and more lasers? Check out our YouTube offerings whenever you wish. All our previous episodes are accessible here with the new shows added each week. You can also come here to re-watch your favorite episodes and access the many links and bonus content we talk about when airing live. See the evolution of FSTV and never miss a single moment with your hosts, Walker, Nick and Scott; and don't forget our Producer, Charles; and Megan, our Social Media champion!
Join us on YouTube anytime!