---
Laser training and certification is now available for all Full Spectrum Laser CO2 laser cutters. These courses will guide you through all aspects of owning, operating, and maintaining your Full Spectrum Laser Cutter, with lessons that can be immediately applied to operating your machinery more efficiently. Once the course material is studied, pass the exam to demonstrate your new expertise and get your certificate. Learn:
Safety Protocols & Procedures
Laser Cutter Accessories & Assembly
Laser Cutter Workflow & Operations
Tests & Adjustments
Maintenance & Upkeep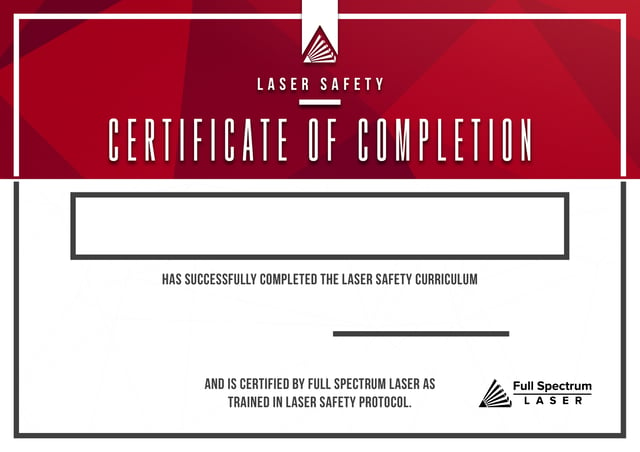 It all starts with safety. Learn how to create a safety focused working environment around your laser cutter. Learn about material, fire, electrical and laser safety protocol. Ensure your laser operators are informed and aware of the best safety practices and emergency procedures. Get safety certified first, and then move on to machine certifications.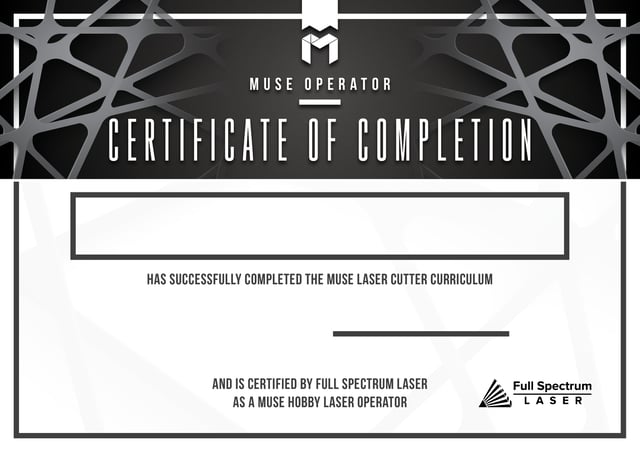 Gain knowledge and mastery of your Muse with the Muse Certification Program. Discover the unique capabilities and features of your Muse laser cutter. Learn tips on improving workflow using RetinaEngrave 2.0 software. Keep up on all Muse maintenance and operation protocol. Present your certification to your local hackerspace and be a leader in teaching others the power of Muse.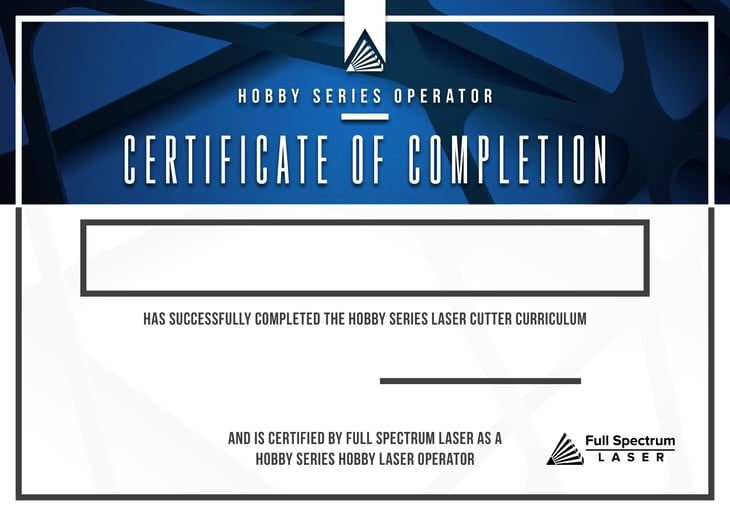 Become a more efficient maker with your hobby laser cutter with Hobby Series Certification. Learn proper installation of accessories. Discover workflow tricks to maximize your output. This course focuses on the Hobby Series laser cutter and the RetinaEngrave user software. Get the most out your Hobby Series laser with certification designed for makers.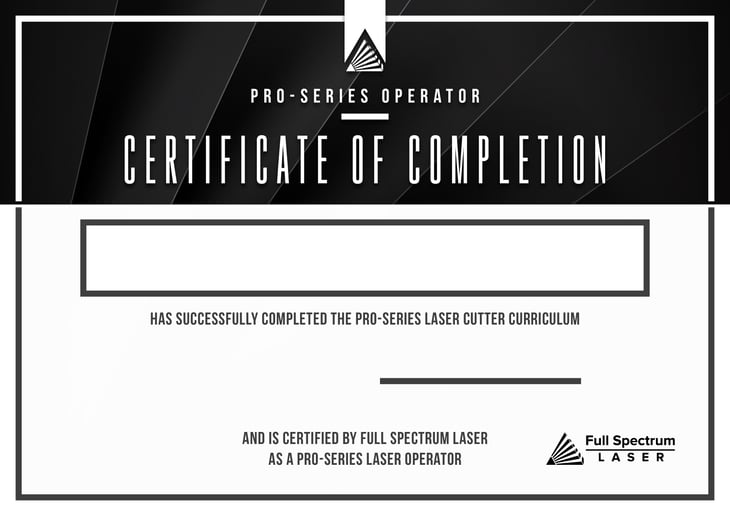 Even professionals can benefit from certification. Ensure your operators are properly trained for workplace safety. Gain knowledge focused on getting the most out of large, powerful laser machines. Keep your workers all on the same page in terms of safety, operations and maintenance, all focused on Pro-Series CO2 laser cutters.
Courses and certifications are available now, free to registered students. Certificates are received upon passing the courses' final exams. All machine courses require the safety certificate first.
---