When you purchase a laser cutter from Full Spectrum Laser, you aren't just buying a great laser system: You become part of our laser community. More than any laser company, we are there after your purchase to help you master the art of laser cutting and laser engraving. We do this with a host of free online services and training materials. From our Laser Experts Blog to our laser operator certification program, we give you the tools to get the most out of your laser cutting projects.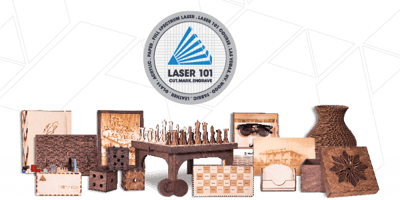 If you are completely new to laser cutting and engraving, start with our Laser 101 school of laser cutting. These lessons start with beginner projects that explain, step-by-step, how to take a project from start to finish. As you advance through the courses, you gain core knowledge and confidence to start to create your own projects. Each lesson is complete with instructions, design files and lists of all the materials you will need.
Explore our library of video tutorials and maker videos aimed at expanding operators' understanding and comfort with a laser cutter. Watch detailed how-to instructions on procedures such as set up, mirror alignment, project tips and more.
Think you are knowledgeable about laser safety? How about proper maintenance of your CO2 laser cutter? Get informed and then get certified with our exclusive laser certification program. Ensure your operators are up to code on all things laser related and have them demonstrate their know-how with a certificate. The curriculum is free and is highly recommended to establish basic laser safety and operation protocol for maker spaces, schools, professional workshops and even home set ups.
Practice makes perfect and we supply you an entire library of free project files. From simple one hour projects to more complex endeavors, we supply you with the project files. From there you can duplicate, modify or just be inspired for your own creations. New projects are added weekly, including seasonal projects for gifts and decorations.
Subscribe to The Laser Experts Blog (you are reading it now) and catch up on all our latest tips and techniques for laser cutting and engraving. This blog covers everything from prepping your home for your hobby laser's arrival to the best practices for operations and maintenance.
Join our resident laser cutting expert, Walker, every Wednesday at 4pm (PST), for live laser cutter discussion and demonstration sessions. Watch the fun live on Facebook and join the conversation with questions and comments. Missed an episode? Catch them all on our YouTube channel: FSLTV.
Sometimes you just want to relax and be inspired watching someone build something amazing with their laser cutter. One-Hour Builds is a weekly presentation of us making incredible projects live, with a laser cutter. It is casual and fun, and you end up learning a technique or two along the way.
Go deeper into subjects like designing for laser cutting, materials, achieving Return on Investment and more with our series of illustrated ebooks. Each is packed with valuable information to master your laser engraver and are available as PDF downloads so you can take them anywhere.
Access All of It Now For Free!
All of this can be found by exploring our ever expanding website. Register and access everything for free!